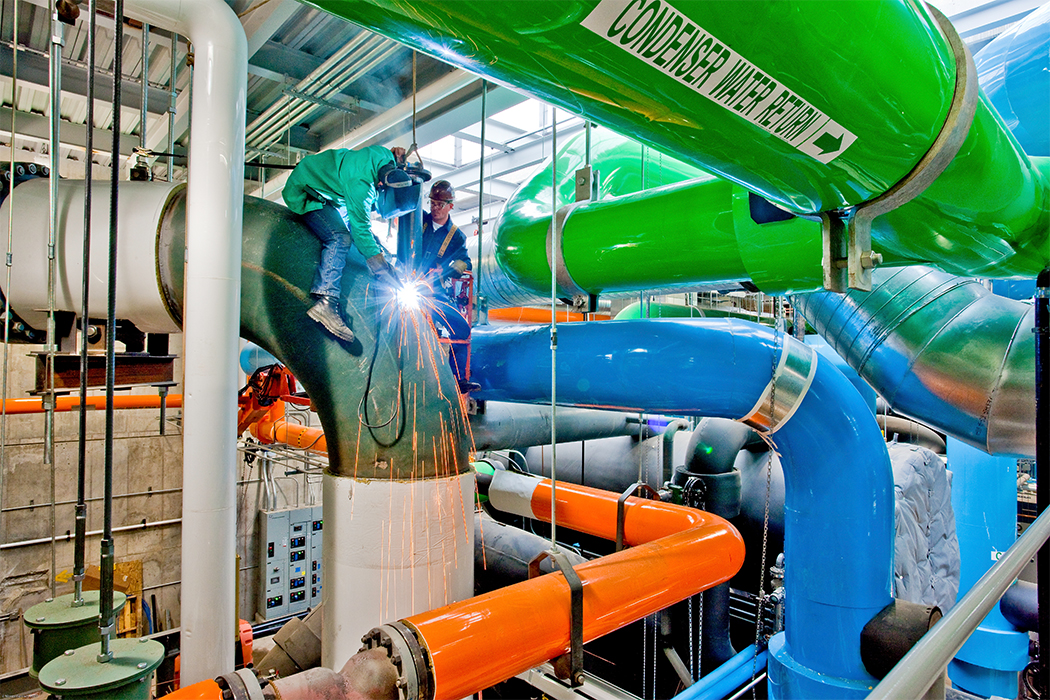 10,000 SF construction of a central utility plant for Northwestern University's Evanston, IL campus.
Included a 10,000 SF below grade addition to the existing central utility plant building, and the addition of 2 5,000 ton chillers to the university's cooling capacity. The plant remained operational throughout the 18-month schedule. Construction also included a 20ft deep basement excavation which required an earth retention system, extensive concrete mat slab and foundation work. Building structural steel design required that all connections be fully welded in the field. The installation of (3)-350 HP and (1)-700 HP electric pumps, (1)-350 HP and (1)-700 HP steam-driven pumps, over 100 high-performance butterfly values, a (5,000)-GPM surface condenser and a (25,000)-CFM air handler. Electrically, a new (3,000)-Amp, 480V service was added and the 4,160V switchgear was replaced to add capacity to serve the new chiller.
Site logistics on this project had to be well planned due to site constraints of the work and working within an active university campus environment. Coordinating and scheduling of the piping, pumps and valves was extremely critical to make this project a success. A thorough knowledge of the existing systems and how the new work tied in to them was necessary to get the plan operational.